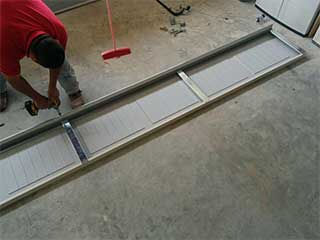 Panel replacement is not something that needs to be done very often but when there is a need for it, reaching out to a reliable team of technicians is very important. Such a fundamental decision must be done with the supervision, guidance, consultation and full technical support of experienced professionals, and you can be sure that our experts at Garage Door Repair Elmhurst are simply the best ones for the job.
The Different Brands
Whether its a Craftsman or a Sears model you've got your eye on, you can rest assured that our team can install them all. Each brand has its own unique benefits, and our experts can help you decide between the different options. We'll also help you find the perfect opener for your new door, providing that you'll need to get a new one of these units as well. The different safety and security features, such as the automatic reversal system and rolling code technology (like the one used in the Genie Intellicode) can be worth upgrading your opener even if your old unit is capable of powering your new door.
The Different Materials
Of course, the type of material your new door will be made of is perhaps the most important thing to decide on. Wood has great insulation qualities and offers a very distinguished and classic look that is sure to increase the curb appeal of your home. However, it will require a lot of regular maintenance in order to be preserved, which can end up making it a more costly option. Steel, on the other hand, is very durable and strong and can provide you with added security. It can suffer from rust, however, and must be treated for it on a regular basis. As for aluminum, it is very light, and therefore doesn't require a powerful opener. It also doesn't need a lot of maintenance and can be very affordable in the long run.That is, provided that it doesn't get damaged, which, due to its light frame,
Pick Our Brain
Our team at Garage Door Repair Elmhurst can accompany you every step of the way, from reviewing the various options to the final installation process. Count on us to answer all of your questions and perform the procedure to perfection. Call us today.